I know, I know. Pie month was so last month.
Yeah right. Pie month is every month here at the Cypert bar and grille.
One of mine and Garrett's best friends, shout out to MICHAEL PAUL KENNEDY, gave me a chocolate cook book for Christmas. Goodness gracious that was the perfect gift for me! And for you, because I will be posting recipes out of it, odds are you will get a free copy of the whole book if you just read my blog. I flipped through the whole book the other night and it all looks amazing!
I decided I would start at the front and make things in order, how else was I to choose which to make first and next? So....drum roll please...the first recipe (page 1) was...
Ultimate Chocolate Caramel Pecan Pie
What you need:
3 Cups Chopped Pecans, Divided
1/4 Cup Sugar
1/4 Cup Butter, Melted
1 Pkg. (14oz.) Caramels
2/3 Cup Whipping Cream, Divided
1 Pkg. (8 squares) Baker's Semi-Sweet Chocolate
1/4 Cup Powdered Sugar
1/2 Tsp. Vanilla
How to make it:
1. Heat oven to 350 degrees.
2. Blend 2 Cups pecans in blender until finely ground, using the pulsing action. Mix with granulated sugar and butter; press onto the bottom of a 9-inch pie plate. Bake 12 to 15 minutes or until lightly browned. If crust puffs up during baking press it down with the back of a spoon. Cool completely.
3. Microwave caramels and 1/2 cup whipping cream in microwaveable bowl on High 2 1/2 to 3 minutes or until caramels are all melted and mixture is well blended, stirring after each minute. Pour onto crust. Chop remaining nuts and sprinkle over caramel layer.
* If you don't want to make the pecan crust, you can substitute a graham cracker crust, I'm sure it would be delicious.*
Caramel mixture spread over crust.
Nuts added.
4. Cook chocolate, remaining whipping cream, powdered sugar and vanilla in saucepan on low heat until chocolate is completely melted, stirring constantly. Pour over pie; spread to cover top of pie. Refrigerate 2 hours.
Once you refrigerate this pie it gets pretty tough to cut into because the caramel and chocolate harden a little, I would suggest cutting it into slices before it refrigerates for too long. We didn't, and it was cutt-able but kind of difficult.
Are you ready for the yummiest picture ever?
Garrett likes to eat his cold, but I microwave my slice for about 20 seconds. It makes the caramel gooey and the chocolate warm. It's perfect!
I hope you all love chocolate because there are going to be many more chocolate recipes headed your way!
*Thanks again dwarf!*
Linking up here!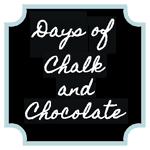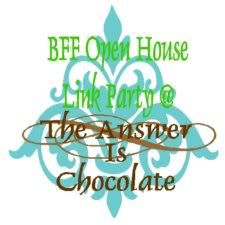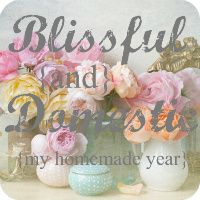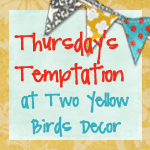 This post was featured at:
and...
The REAL Houswives of Riverton