Kelly over at
Sparkles and Shoes
did an All About Me from A to Z post about a week ago and when I commented on her post, she encouraged me to do my own. Her blog is full of fun fashion ideas and she just participated in
The Messy Project
. What I am trying to say is that her blog is a fun read so go check her out!
Kelly, thanks for encouraging me to do my own A to Z post!
So here goes...
A = Available or Married?
Married. To the love of my life. My high school sweetheart. My soul mate. Ok, you get the picture. Check out our
love story
or read about our destination wedding
here
.
Two words- Gone Girl. If you haven't read it, go get it today! As of right now, it is my favorite book.
As much as I love both, I have to go with pie. Pie is my favorite dessert, I could eat it for breakfast, lunch, and dinner.
Coke. Always.
I also love sweet tea, skim milk, and ice cold water. As far as alcoholic drinks go, I am a sucker for any fruity drink. Blue Hawaiian? Yes please.
E = Essential start to your day?
Folgers in my cup! Just kidding. Getting enough sleep and being able to pee first thing in the morning.
Cobalt blue.
G = Game to play or watch?
Play- Settlers of Catan Watch- Football
H = Height?
5'11. Yep, I'm taller than pretty much all of my friends. And I have a hard time finding pants that are long enough. Just so you know..
Blogging, fast food, dessert, and good TV.
Just two cat sons named Junior and Harley. They are enough for now ; ).
L = Life is incomplete without?
My husband, my family, and my
best friend
. And sometimes dessert.
M = Music group or singer?
I doubt I have to tell y'all this if you have been reading my blog, but Taylor Swift is my pretend bff. Not really, but I know we would be if we knew each other.
Just one. Her name is Alyssa, she's four years younger, and she's awesome. I wish she were a blogger.
O = Overnight hospital stays?
None, thankfully. The hospital scares me. Seriously, I hate even going to visit someone in the hospital.
Cheesy answer but it's the truth- losing those I love. More irrational fear- someone breaking in and getting me.
"Comparison is the thief of joy."
I have a bad habit of comparing what others have to what I want/have and it gets me down. This quote helps me remember not to do that.
Lefty and proud of it. : )
Fall and spring.
Before the weather gets overly cold or hot. I can not stand being too hot. Fall means pumpkin spice and a crisp chill in the air and spring means flowers and sunshine. What's not to love?
Ha. Lately it has been at about 3pm because G and I have been staying up until about 7am due to his work schedule. That's getting old.
U = Unknown fact about me?
I wear contacts and I am almost blind without them. It's bad.
V = Vegetables you dislike?
Funny. I literally can only think of a couple veggies that I do like. So everything but potatoes, spinach, and carrots.
W = What makes you run late?
Getting dressed. I am so picky if I am going somewhere. Clothes generally end up making me mad.
I broke my arm when I was younger. I'm sure there were X-rays of that. I fell off of one of those spring horses because I was using a pearl necklace as reins and it broke. It's ok, you can laugh!
It was similar to this: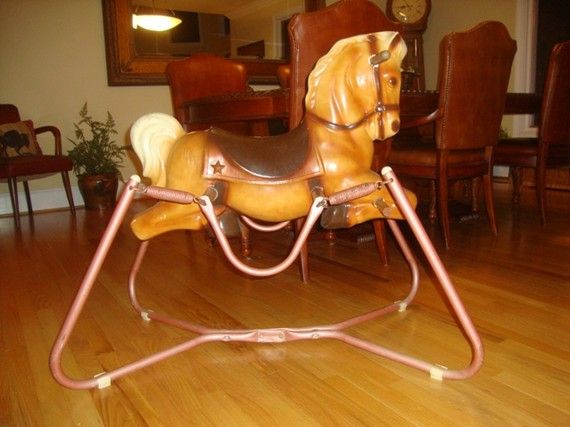 I like alot of foods, but I could pretty much always go for a cheeseburger with pickles and mustard.
Aquarius, though I don't get into that stuff.