I normally do Sunday Confessions, but today I wanted to try something different.
I found a new blog that I really like,
Heavens to Meighan
, and she had linked up to this Sunday Social thing and it looked fun. So here I am, copying her idea to link up to that. : )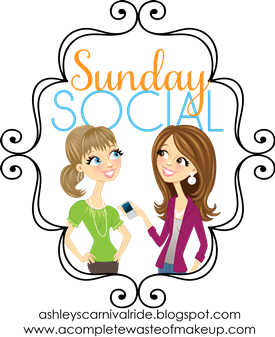 What is the name of your blog/how long have you been blogging?
My blog is "Keeping Up with the Cyperts" and I have been blogging since August of 2011! I can't believe it has already been that long!
Why do you blog?
I started to blog for my family back in Texas. To keep them updated on what we are doing in Denver and to share pictures with them. Once I started blogging I realized how many nice bloggers there are out there and loved the new friendships that I made with them! Now it is just fun!
What is the first blog you followed?
The first blog I followed was my best friends blog,
Fun with the Fullwoods
. She started blogging before I did and inspired me to start. If you haven't checked out her blog yet
,
you should! You won't be sorry!
What is your favorite post you wrote in 2012?
Hmmm..this is a hard question. Mainly because I am lazy and don't want to go back through my posts. Buuuut one of my favorites was
Sunday Confessions.
I like those posts because they allow me to be random and write about whatever comes to mind, all in one post.
What are your blogging goals for 2013?
I would like to continue to grow my blog and to meet other bloggers. I would also like to blog more often. I see people who write everyday and I don't think I will ever be able to do that, but I would like to more often than I did in 2012. Most importantly, I want to keep the bloggers that I already know and love as close blog friends!
Name your top 3 favorite blogs.
Uh oh, I think I have more than 3.
I can't choose three because I would be lying to you if I said those were my "top 3". In reality, I can think of about 7 that are my favorites. They are listed on my sidebar under, " I love reading...". Check them out!