Fact- Sometimes I have a strong urge to blog, but I really have nothing important to talk about. Like, now!
Fact
- I love animals. Alot. Always have, always will. We are ready for the day to come that we can get a
puppy
, and we already have two cats.
Fact- My best friend lives in Texas, and I live in Colorado. She's the only person that I regularly talk on the phone with, and I love it!
She blogs
here.
Check her out!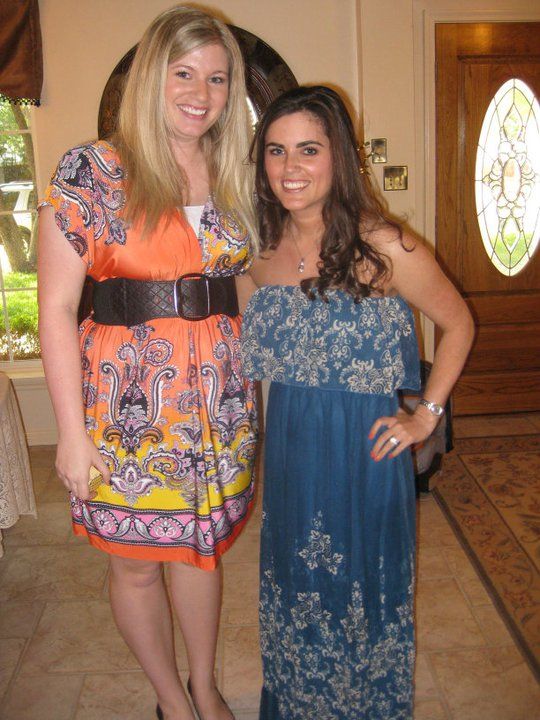 Fact- I'm tall. If you don't believe me, look at the above picture! I'm 5'11. (Just like Taylor Swift!)

Fact- My birthday is Tuesday. I will be 26. I'm not really that excited about that fact and haven't even figured out what I want to do yet.
Fact- I have been to Italy 3 times. One of those times Garrett and I studied abroad together there. I would love to live there again. I miss it!
Fact- Garrett and I had a destination wedding on the beach in Mexico. It was beautiful and a fun time with our family, but if I were to do it again I think I would choose a regular wedding. I feel like I missed out on some things that are important.
Fact- Getting dressed can make me angry in a matter of a couple of seconds. It's because I have gained weight and don't feel comfortable in most things I have. It's really frustrating and Garrett get's afraid to say anything to me when this happens because he has learned the hard way that I won't be nice.
Fact- I'm messy. Mainly with clothing and hair/skin/beauty products. Our bathroom counter top is barely visible because of all the products I have sitting on top. That's better than being nasty messy right? Like having a week old piece of pizza laying in the bed with me? Atleast you don't have to deal with that babe!
Fact- We moved to Denver almost 3 years ago and I still haven't gotten Colorado license plates or a Colorado drivers license. Hopefully no one is reading this that will give me a ticket for it.
Fact- Since we are on the subject, I still haven't gotten my name legally changed since I have been married either. I know, that's bad. To be fair, we moved to Colorado right after our wedding and weren't sure how long we would be here once Garrett was done with school. Now, I have no excuse.
Fact- I am going to go make this right now:
Thanks for reading all of these random things that came to my mind!
I hope you all had a great Thursday!
Oh! Go here to enter into our great giveaway! 5 prizes! And they are good ones, too! : )